I WALKED IN HEAVEN WITH JESUS
BY
Dr. Percy Collett
_____
ALL SCRIPTURE QUOTATIONS ARE TAKEN FROM THE
KING JAMES VERSION OF THE BIBLE
_____
ALL SCRIPTURE QUOTATIONS ARE TAKEN FROM
THE KING JAMES VERSION OF THE BIBLE.
I WALKED IN HEAVEN WITH JESUS
TXU 251 960
COPYRIGHT - Dr. Percy Collett
Author - Dr. Percy Collett
Co.-Author - Connie Lorena
Published by:
Joy of Heaven Bible Institute
P.O. Box 16297
Panama City, Florida 32406 U.S.A.
Printed in the United States of America.
All rights reserved under International
Copyright Law. Contents and/or cover may
not be reproduced in whole or in part in
any form without the express written
consent of the Publisher.
_____

PREFACE.
This book is a true account of my walk in Heaven with Jesus.
I saw the City Foursquare, the Throne of God, the River of Life, the Brazen Altar, and many Archangels, the Mansions, the Banqueting House, the Seats of Authority, the Eyes of Jesus which light up Heaven, Eternity, the Mother of Jesus, the Apostle Paul, Abraham, Elijah and other prophets.

The journey to Heaven took six hours; five and one half days inside Heaven, and six hours
back. I saw under the Altar the Martyred Saints, looked into the Lamb's Book of Life and saw
all the Creation of GOD in the New Heaven, much as Paul was caught up into the Third Heaven.
Dr. Percy Collett.
_____
TABLE OF CONTENTS
Preface.
Chapter Page
1. The Spectacular Journey To Heaven............................1
2. Mansions Of The Great Soul Winners.........................8
3. Joy In Heaven.............................................................15
4. The Temple Of GOD..................................................18
5. The Sea Of Glass, The Crystal Sea.............................24
6. The River Of Life.......................................................34
7. The New Jerusalem....................................................38
8. The Great Throne Of GOD........................................43
9. The Wedding Garment...............................................53
10. Records In Heaven...................................................56
11. The Banqueting House.............................................58
12. Eternity, And Where Is It?.......................................64
13. The Book Of Life.....................................................68
14. The Coming Of The Lord Is At Hand......................71
_____
15. Jesus Is My Lord......................................................80
Part II: My Early Childhood And Growing Up In England.
16. Percy Sees An Angel................................................92
17. My Mother Went To Heaven..................................108
18. I Was A Teenager At The Farm.............................116
19. Landing In New York.............................................139
20. My First Pastor.......................................................148
21. Bellingham Meeting...............................................157
22. The Big Top........................................................... 170
Part III: My Journeys Among The Indians In South America.
23. The Indian And The Amazon..................................195
24. The Sadists of The Interior......................................206
25. The Worm Eating Indians.......................................220
26. Worship Among The Macambas............................229
27. The Influence Of Religious Beliefs........................235
_____
28. The Wedding In The Jungles..................................241
29. Giving Gives Heavenly Blessing In Return............283"
Part V: Suggested Reading For Daily Christian Walk.
Introduction To My Grandmother's Prayer Book...........301
30. My Grandmother's Prayer Book..............................310
31. Testimonies Of Rejoice...........................................522
********
_____
PART II: Chapter 16 SECTION DIVIDE
PART II
My Early Childhood and Growing Up In England
_____
PAGE92: Chapter 16 PERCY SEES AN ANGEL
"Now Samuel Did Not Yet Know The Lord, Neither Was The Word Of The Lord Yet Revealed Unto Him." "And The Lord Came, And Stood, And Called As At Other Times, Samuel, Samuel. Then Samuel Answered, Speak; For Thy Servant Heareth."
1st Samuel 3:7 and 10.
My mother went to be with Jesus at the age of 32. I was born in May 1902 in a very large house with large stairways, many rooms, attics and cellars. My mother was a Godly woman, daughter of Thomas Cox, a Minister of the Gospel and pastor of a church. My father was an Anglican of the Collett Line emigrating to England in the 13th century from France and I was taught that there were A Heaven, Angels and Jesus to Glorify and Devils to Shun.
Reality of all this was to come later.
_____
PAGE93: Chapter 16 I WALKED IN HEAVEN WITH JESUS
"After This Manner Therefore Pray: Our Father Which Are In Heaven, Hallowed Be Thy Name. Thy Kingdom Come. Thy Will Be Done In Earth, As It Is In Heaven. Give Us This Day Our Daily Bread. And Forgive Us Our Debts, As We Forgive Our Debtors. And Lead Us Not Into Temptation, But Deliver Us From Evil: For Thine Is The Kingdom, And The Power, And The Glory, For Ever. Amen." Matthew 6:9 To 13. I learned the Lord's Prayer at a very early age, the Catechism, and to Pray every morning and night at the bedside.
One night, in the Spring of the year, I lay in my bed as a little boy, frightened, and lonely because I missed my Mother very much. I remember quite well some cold, lonely nights, crying for my Mother, who had gone to be with Jesus.
I was told by my Grandparents and the Servants that my Mother was in Heaven with the Angels, and not to cry because the Angels of the Lord would watch over me and protect me from all harm and danger.
_____
PAGE94: Chapter 16 PERCY SEES AN ANGEL
While lying in my bed crying and lonely, a Beautiful Person appeared at the foot of my bed. For a moment or two I wondered who it was, so beautiful was the Person, and I asked: "Who Are You?" The answer was: "I Am Your Angel, Be Not Afraid, I Have To Be With You And Protect You All Of Your Life."
The Visitation of the Angel to me as a small boy was so real. I would think about my Angel very much. I had no more fear of going through those long hallways and big rooms and I even ventured into the dark cellar to explore what was down there. I knew that the Angel was with me everywhere I went because the Angel had told me that He would go with me and be with me all the time.
"Be Not Forgetful To Entertain Strangers For Thereby Some Have Entertained Angels Unawares." Hebrews 13:2.
The next Christmas and old Tramp came by to beg bread at the door. His coat
_____
PAGE95: Chapter 16 I WALKED IN HEAVEN WITH JESUS
was tied together with bag string, His pants had big patches on them, and his shoes were sizes too big. The Housekeeper said to my father: "There Is A Tramp At The Door." My father said: "Let Us Take Him In, For It Is Christmas, We Will Let Him In To Keep Warm Before The Fire." The old man was so happy to be able to get in from the cold and sit before the big fire in the back kitchen to keep Himself warm. I peeked through the door from the inner kitchen, and I even ventured out to come closer to him. He said to me: "Do "You See My Wife In The Fire?" And He asked me what my name was, and I told him: ' 'Percy" I said, "Is There Somebody In That Fire? Wouldn't They Burn Up In The Fire? How Could Anyone Still Be Alive In The Fire?" And He told me that the Fire could not burn up spirits; For in the Fire was a Spirit.
He slept on the rug before the fire that night after eating a large bowl of soup, big slices of bread and hot tea. Next morning, I was so interested in the
_____
PAGE96: Chapter 16 PERCY SEES AN ANGEL
man that was in the back kitchen, that I got up early in the morning to talk to Him. When I entered the room, He was on his knees praying, thanking Jesus for the warmth of the fire and the hospitality my father had given to Him.
"For I Was An Hungred, And Ye Gave Me Meat: I Was Thirsty, And Ye Gave Me Drink: I Was a Stranger, And Ye Took Me In: Naked, And Ye Clothed Me: I Was Sick And Ye Visited Me:" and "-Verily, I Say Unto You, Inasmuch As Ye Have Done It Unto One Of The Least Of These My Brethren, Ye Have Done It Unto Me." Matthew 25: 35,36 and 40.
The next day the sun came out quite bright, and my father prepared a room for the old man next to the horse stable with a bed, a stove, a kerosene lamp, and clean sheets. In the afternoon I saw Him carrying buckets of water to take a bath, and my father took Him to town to buy Him some clothes. My father decided to keep the old man on the farm. And
_____
PAGE97: Chapter 16 I WALKED IN HEAVEN WITH JESUS
after He had the new clothes on, a hair cut and a shave, He looked like any other English Gentleman, ready to go to Church and be one of us. Many times I walked to Church with Him hand in hand, and He would sit next to me. He became my close friend and He told me about Jesus. He was like an angel to me.
At Christmas time it was customary for the hand bell ringers to come and ring the bells to the tune of the Christmas Carols, such as Silent Night; Oh Come All Ye Faithful And Others. The bell ringers could not speak English; They were German, and they took their bells from door to door. How they could ring those bells! My father would always go out and put money in the collection pan and they became very happy, speaking German among themselves.
To my surprise the old tramp could talk to them; He was German. He had lost His leg in the war and He had a wooden leg. My father named the old man, Ned; He had said that His name was Edward.
_____
PAGE98: Chapter 16 PERCY SEES AN ANGEL
He went to work for my father, wooden leg and all, cleaning up the buildings, raking the yards, And best of all, eating three meals a day. I remember some friends coming from far away and they asked my father: "Where Did You Get That Old Gentleman That Is Working For You?" "Oh, He Just Came To The Door To Get Bread And I Decided To Keep Him On. He Seemed So Kind."
We had a groom named Willy who cleaned the carriages, groomed the horses, cleaned the harness and sone the brass on the harness. It was quite a sight to see the carriage and the two black horses, nicely groomed, go to market. Willy stayed with us for many years. One night He called to my father's bedroom: "The Carriage Is Ready To Go, The Horses Are All Hooked Up." My father answered out of the window: "Go Back To Bed, Willy, You Are Sleep Walking." I said to Him "Willy, What Makes You Walk In Your Sleep?" He said, "I Don't Know, But It Makes Me Feel So Foolish When I Do It." Ned led
_____
PAGE99: Chapter 16 I WALKED IN HEAVEN WITH JESUS
Willy to Jesus. Ned would milk the cows, and the butter was churned and that country butter sure was good. I left home and went to live with my Grandfather in order to work on His farm, bringing loads of hay from the valley below, to be stacked up for winter feed. During that time I walked through the meadows in the dark to visit my other Grandfather, Grandfather Cox. While bringing a load of hay up the hill, the lead mare, Bonnie, reared and would not go further, an unusual thing for the old mare to do; she was such a faithful work horse, very gentle and very quiet.
I walked forward to see why Bonnie would not go on, and in front of her stood my Angel. Bonnie had seen Him before I did. It was the same Angel that I had seen at the foot of my bed. The Angel said to me: "You Are The Servant Of The Lord And You Must Go To Many Lands To Tell Them About Jesus."
"And The Angel Of The Lord Went
_____
PAGE100: Chapter 16 PERCY SEES AN ANGEL
Further, And Stood In A Narrow Place, Where Was No Way To Turn Either To The Right Hand Or To The Left. And When The Ass Saw The Angel Of The Lord, She Fell Down Under Balaam." Numbers 22:26 and 27.
And this is truly happening today, and it is our desire to translate this testimony into every language under Heaven. And The Angel's instructions are coming to pass.
I went to my Grandfather Cox and I told Him that I had seen an Angel today. My Grandfather said: "Did You, My Boy?" and then He added: "You Are Now Come Out From Under My Jurisdiction And In The Hands Of The Lord." I began to prepare myself to go on this world journey. The Angel of the Lord appeared to me on many occasions between the ages of 14 and 18. I would dream dreams and I would begin to have visions of Heaven. I dreamed many times that I saw my Mother in Heaven, and Jesus. Many times walking through the woods and the trees, The Angel Would
_____
PAGE101: Chapter 16 I WALKED IN HEAVEN WITH JESUS
walk with me and tell me that I must obey The Voice of the Lord. At the age of eighteen, I left home crossing the ocean, afterwards going to many lands.
_____
PAGE102: Chapter 16 PICTURE PART

MY FATHER AT THE AGE OF 90 STILL
HANDLING HIS OWN BUSINESS, HE
LIVED A LIFE OF TRUST IN GOD
_____
PAGE103: Chapter 16 PICTURE PART
GRANDFATHER AND GRANDMOTHER COX
_____
PAGE104: Chapter 16 PICTURE PART

THIS IS WHERE I SAW THE ANGEL AT
THE AGE OF FIVE. EDGEHILL, ENGLAND
_____
PAGE105: Chapter 16 PICTURE PART

"FRONT ENTRANCE OF MY HOME WHERE THE
LIGHTNING CAME DOWN AND SPEWED THE
RAIN ALL OVER THE PLACE WHEN I WAS
SIX YEARS OLD. EDGEHILL, ENGLAND.
_____
PAGE106: Chapter 16 PICTURE PART

I REMEMBER THE CHRISTMAS QUITE WELL
WHEN THE OLD TRAMP CAME
TO THE DOOR.
_____
PAGE107: Chapter 16 PICTURE PART

BACK OF THE HOUSE AT
"EDGEHILL, ENGLAND INCLUDING THE
BARN DOOR WHERE WILLIE GOT THE
BUGGY OUT IN THE EARLY MORNING
_____
PAGE108: Chapter 17 MY MOTHER WENT TO HEAVEN
My oldest brother, Cecil, was very close to me. We would pray together, go to Church together and we would talk about my leaving to go to the Mission Field. My brother took my leaving very hard. He asked me if the Lord would let me stay in England and do Missionary work there. This was impossible, I had to obey the Voice of the Lord.
When my papers were being processed and my passage made ready to travel on the Aquatania to New York, it was necessary to have a medical examination because in those days, no cripple, or unhealthy person, was allowed to enter into America. In the conversation with the doctor it was brought out that it was necessary for the Mother to sign the papers. The doctor asked me if my Mother could be reached. My Father's answer to the doctor
_____
PAGE109: Chapter 17 I WALKED IN HEAVEN WITH JESUS
was: "Percy Lost His Mother When He Was Five Years Old; He Has Always Missed His Mother Very Much And Many Times He Has Asked About His Mother." My father's answer to my questions about Mother always was: "Your Mother Was A Precious, Godly Mother Who Spent Hours In Prayer Every Week." And my father always called my Mother an angel.
My father missed my Mother very much, also. After Her death and funeral, He hardly spoke to anyone for a whole year. Her Body was placed into a casket or coffin in the house. I saw them place Her Body into the coffin. This, I could not understand: Why should they place my Mother in a Box?
The next morning I saw her coffin placed into the buggy; I shall never forget that. The buggy had a section under the seat where packages could be put when my father went to market. We were ready to start the funeral journey which was
_____
PAGE110: Chapter 17 MY MOTHER WENT TO HEAVEN
twenty three miles form Edgehill to Oddington, five miles form the city of Oxford. There were many vehicles in that funeral journey; All horses and buggies, beautiful horses. In those days there were very few automobiles.
Arriving at Grandpa Collett's beautiful home, The casket with my Mother in it, was placed in the parlor with many wreaths of flowers, Roses and many other kinds of flowers. There were so many flowers which the neighbours and friends had brought. They filled the parlor until it was so full that many of them had to be placed outside the front door. I ran into the parlor and cried. I told my Mother to get "out of that box.
The servants had prepared roast duck, fresh green peas from the garden, new potatoes and deep dish apple pie for the many guests that were present.
I could not eat my dinner; I just wanted my Mother. The Housekeeper who
_____
PAGE111: Chapter 17 I WALKED IN HEAVEN WITH JESUS
was in charge of me, told me that my Mother would not be back anymore; That She had gone to Heaven to be with Jesus and that I would see her there some day. I told Her that I wanted to see my Mother now and that I was ready to go to Heaven right now so that I could see my Mother.
A little child like me could not understand what Heaven was and why my Mother should want to leave me. And I cried, and cried, and cried. The funeral procession from the house to the Church started at one o'clock in the afternoon and so many people were attending that it reached from the house to the Church yard several times. Hundreds of people attended because my Mother was really loved by everyone.
It was arranged that I should stay in the house with the housekeeper and not go to the Burial Service. I slipped away from the housekeeper and ran down the road to the Church yard, running between the people's legs and came to the Graveside
_____
PAGE112: Chapter 17 MY MOTHER WENT TO HEAVEN
of my Mother. I cried aloud: "Get My Mother Out Of There, Don't Put Her Down Into That Great Big Hole!"
After the funeral both my Grandmothers held me on their knees and loved me and tried to explain where my Mother had gone. I said: "Why Did They Put My Mother Down Into That Great Big Hole? Why Could She Not Have Gone Straight To Heaven Without Putting Her Down Into The Ground And Burying Her With All That Dirt?"
My little mind was working on that problem. I was known to ask many questions as a little boy. Everyone tried to satisfy me with different answers, but no one could; No Answer was good enough for me.
I stayed with my Grandmother for several days. But, try as they might, no answer would satisfy me about my Mother. I just wanted my Mama, to feel her arms around me and hold me close to her breast.
After returning to Edgehill to the
_____
PAGE113: Chapter 17 I WALKED IN HEAVEN WITH JESUS
great big house, that was the time when my Angel appeared to me and gave me comfort to my soul, something that no human had been able to do. Each night I would dream about my Mother and Heaven and Jesus, that JESUS about whom many persons had told me. Throughout my entire life I have had dreams and visions of the Glory World. Many times I dreamed that I saw my Mother in Heaven with Jesus. And one day that dream became a reality.

I WALKED IN HEAVEN WITH JESUS FOR
FIVE AND ONE HALF DAYS!!
_____
PAGE114: Chapter 17 PICTURE PART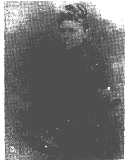 MY MOTHER
WHO WENT TO BE WITH JESUS
AT THE AGE OF THIRTY TWO
_____
PAGE115: Chapter 17 PICTURE PART

ODDINGTON, ENGLAND
I SPENT MUCH TIME HERE
AT MY GRANDFATHER COLLETT'S HOME
_____
PAGE116: Chapter 18 I WAS A TEENAGER AT THE FARM
"And He Said Unto Them, How Is It That Ye Sought Me? Wist Ye Not That I Must Be About My Father's Business? And They Understood Not The Saying Which He Spake Unto Them. And He Went Down With Them, And Came To Nazareth, And Was Subject Unto Them: But His Mother Kept All These Sayings In Her Heart." Luke 2:49 to 51.
Life around the Manor House, where I was born, was not the same. My Mama was gone and the place seemed so empty. My sister, Maude, who was born at the time of my Mother's Death, was taken away to be raised by my Mother's sister, whose husband was a Minister of the Gospel and Pastor of a Baptist Church. Uncle Rider was an extremely religious man and His convictions about religion were very strict; He was a Preacher of Holiness.
_____
PAGE117: Chapter 18 I WALKED IN HEAVEN WITH JESUS
At the Manor House the Servants would try to make me happy. Almost every night I would dream of Heaven. In my young mind I wondered where Heaven could be. I started school at the age of four, learning the A B C. Twice one is two, and twice two is four, etc. I had one year of schooling at my Mother's Death and that conditioned me to be alert and able to observe many things even at that young age.
The school was in Radway, a mile and one quarter walk down through meadows, over fences and on into the school court yard. It was quite a large school with several hundred children attending. The school taught students from the age of four years until the age of fourteen, ten years of strict schooling.
Other students found out that an Angel had visited me in my bedroom. Many times at the noon day recess, students would gather around me and question me what the Angel looked like. They considered me somewhat of a Spiritual influence over
_____
PAGE118: Chapter 18 I WAS A TEENAGER AT THE FARM
them. And When I would have a dream at night, the next day they would ask me about what I had dreamed. They were very sincere with their questions and not one seemed to disbelieve me.
Across the road from the school house lived Leonard Fox, My Godfather. I would walk across the road to His house, have a nice cup of hot tea or some hot soup along with my sandwiches. That would warm me up in the cold winter time. Mr. and Mrs. Fox would ask me sometimes what I had dreamed about the night before. They would ask me what my Mother looked like and they would say to one another: "His Dreams Have To Be True Because Percy Sees His Mother Exactly As She Looked, Even To The Color Of Her Hair And Eyes, And Everything Else."
My sister, Edith, the oldest in the family, became like a mother to us. It was our custom in the home to all pray together the Lord's Prayer, read in the Catechism and also, read in the Prayer
_____
PAGE119: Chapter 18 I WALKED IN HEAVEN WITH JESUS
of Daily Thankfulness. One night my dream was so real that I came down singing in the early morning. Even my father said: "What Did You Dream About, Percy?" My answer was: "Mama" And when I would tell Him, tears would come streaming down His cheeks. My father, too, knew that my dreams were real because I could explain my Mother's looks so well.
It was our custom to attend Church at Radway every Sunday and sometimes in the village of Oxhill, which had a small Church. It was so much different than the large Church at Radway. My father would take the big Family Bible every evening and read to us a Chapter.
I was twelve years old when World War One broke out. We had moved from the Manor House to the Village of Shotswell, which had a big Church with a very high Spire. The Bells would ring at Christmas and the Minister, Dr. Wyatt, was a very Godly man; And He, too, would ask me many times about the dreams and visions I had
_____
PAGE120: Chapter 18 I WAS A TEENAGER AT THE FARM
about Heaven. I remember the day very well when War was declared. I was twelve years old. The Reserves were being called up and the Activity of all of England was one big preparation to fight. Edward, The Peacemaker, had died and George The Fifth became King. We could hear the guns of the Battle of Jutland between the German and the British Navy. This was a kind of a Gentlemen"s Battle; It almost sounded like a game of Football or Cricket.
There were no Atrocities committed between the German and the British Navy. Whenever one or the other ship was sunk, sailors were picked up out of the waters and put on either the British or the German ships. I remember one of the British sailors telling of the German sausage that he ate while a prisoner on a German ship. Many of the prisoners were exchanged. The Battle ended. What was left of either side of the two Navies returned to their own respective bases and submarine warfare became very dirty on both sides.
_____
PAGE121: Chapter 18 I WALKED IN HEAVEN WITH JESUS
During the War time many hundreds of Belgium Refugees came flocking to England and, also, quite a few French. This was the part of the World where my family had originated, The border area between France and Belgium. My family moved into England in the Thirteenth Century, buying land and estates. Longevity was not known then; People died between the ages of thirty and forty, diseases were on the rampage, the Plague wiped out thousands of People all over the southern part of England. My family, being sturdy and strong, survived; and they began to increase in number. They were Church builders and Stone Masons. The Religious background was Catholic and that fitted in quite well into the Society of the British Churchmen.
In the generations back then, It was always Church on Sunday, Prayer before going to bed and Prayer before breakfast the next morning.
"The Angel Of The Lord Encampeth Around About Them That Fear Him And Delivereth Them." Psalms 34:7 and Psalms
_____
PAGE122: Chapter 18 I WAS A TEENAGER AT THE FARM
Chapter 91 and Verse 11. "For He Shall Give His Angels Charge Over Thee, To Keep Thee In All Thy Ways."
The thought of Angels was always on my mind. And when I heard of the report of seeing Angels at Mons during the First World War, it made me very happy. Many People believed that Angels had come to intervene and stop the War. Angels have always been a part of our family life on both sides, my Mother's and my Father's. When my Mother sent postcards to her mother and her sisters, It was always with an angel on the card. Angels were on all of our minds...There was always talk of the Guardian Angels sent to this Earth to watch over us.
Most of the men folk were gone to War. This left the homeland to be without a labour force on farms and without workers in factories. Everyone had to work; old men, women, and boys and girls. Our families were all farmers and I started milking cows at the age of eight, working from
_____
PAGE123: Chapter 18 I WALKED IN HEAVEN WITH JESUS
daylight to dark during school vacations.
"A Sound Of Battle Is In The Land, And Of Great Destruction." Jeremiah 50:22.
The Germans had invaded France and you could hear big, Notorious Bertha. The Biggest Gun built at that time by the Germans, shooting from the middle of France, landing shells in Paris.
Then the German Zeppelins came over bombing England. You could hear the drone of their engines going overhead. Coventry and Warwickshire had several Munitions factories and they were bombed. England's Airforce was in training. Each day you could watch the Pilots go up, looping the loop and practicing to attack the Zeppelins. The Preacher's son and the Liquor store owner's son, both were Pilots, flying the small planes all over the place. The engines of these fighter planes were lubricated with Castor Oil. The machine guns mounted before the Pilots were timed to shoot between the propellers. The
_____
PAGE124: Chapter 18 I WAS A TEENAGER AT THE FARM
City of Coventry became one of the main targets for these bombings. Also, The Southern Coast of England was Bombed.
There were Canadian Pilots attached to the British Airforce. They practiced and practiced and practiced. One plane came down on our Neighbour's Farm. I was the first to be at the scene of the crash. The engine had sunk several feet into the ground and the Pilot's Body was lying on the top of the engine. The rest of the plane was scattered. An Inquest was held and I was called to be one of the witnesses. The decision was: The Pilot Died Fighting For His Country. His Widow Received The Victoria Cross.
The Pilots practiced for about another week. The next time the Zepplins came over, the Pilots were ready to attack. And they did attack and the Zepplins came down in flames all over the place. One of them falling into the middle of our potato patch. It ruined the entire crop; The flames burned off all the tops of
_____
PAGE125: Chapter 18 I WALKED IN HEAVEN WITH JESUS
the potato plants. Another one fell into a cluster of trees, burning all the leaves off the trees, leaving them looking black and bare. That was the last attack by Zeppelins. The War was getting nastier than ever. I remember when the first Americans came to England, they came by train loads. We called them Doughboys; That is how they first came by that name.
I had trained as a young boy to guard the Coast Line just in case the Germans would invade England. The American boys coming to participate in the War looked very young. I was fifteen years old and some of them looked younger than I was. Some of them had only five or six weeks training, so they said. The American Officer let me use his Pistol to shoot targets, and truthfully, I was hitting the target almost every time.
We had big cans of milk and the soldiers with their cups consumed all of the milk was suppose to go to London; They said that they had not tasted a bit of
_____
PAGE126: Chapter 18 I WAS A TEENAGER AT THE FARM
milk since they left their homes. I wonder sometimes how many of these young men that I saw are lying now at Flanders Field.
"And If Ye Walk Contrary Unto Me, And Will Not Hearken Unto Me; I Will Bring Seven Times More Plagues Upon You According To Your Sins." Leviticus 26:21.
I remember right well when the Flu attacked; Thousands died all around us in our Neighbourhood. My Grandfather prayed for me and I was not attacked with this horrible virus. I helped carry the neighbour's boy to his grave; He was my friend and he had died of the Flu. The Lord spared me for a purpose because the Angel's instructions had to be carried out. I remember well the Angel appearing to me in 1916, the coldest winter that we ever had. It was Christmas time and the Angel said, "You Shall Be Spared Of Any Of These Diseases, For You Have To Go And Carry The Message Of The Lord To All The Parts Of The Earth."
_____
PAGE127: Chapter 18 PICTURE PART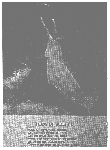 ROCK OF AGES (1)
Rock of Ages, cleft for me,
Let me hide myself in Thee,
Let the water and the blood
From Thy river side which flowed;
Be of sin the double cure,
Cleanse me from its guilt and power.

"PICTURE POSTCARD (1 THRU 3) MY
MOTHER SENT TO HER MOTHER AND
FAMILY IN 1899.
_____
PAGE128: Chapter 18 PICTURE PART


JESU, LOVER OF MY SOUL (1).
Jesu, lover of my soul,
Let me to Thy bosom fly,
While the gathering waters roll,
While the tempest still is high.
Hide me, O my Saviour hide,
Till the storm of life is past,
Safe into the haven guide,
Oh, receive my soul at last!
_____
PAGE129: Chapter 18 PICTURE PART

ROCK OF AGES (2).
Nothing in my hand I bring,
Simply to Thy cross I cling;
Naked, come to Thee for dress;
Helpless, look to Thee for grace;
Foul, I to the fountain fly
Wash me, Saviour, or I die.
_____
PAGE130: Chapter 18 PICTURE PART

JESU, LOVER OF MY SOUL (2).
Other refuge have I none,
Hangs my helpless soul on Thee;
Leave, ah! leave me not alone,
Still support and comfort me.
All my trust on Thee is stayed,
All my help from Thee I bring;
Cover my defenceless head
With the shadow of Thy wing.
_____
PAGE131: Chapter 18 PICTURE PART

JESU, LOVER OF MY SOUL (3).
Plenteous grace with Thee is found,
Grace to cleanse from every sin;
Let the healing streams abound,
Make and keep me pure within.
Thou of life the fountain art,
Freely let me take of Thee;
Spring Thou up within my heart;
Rise to all eternity.
_____
PAGE132: Chapter 18 PICTURE PART

LEAD KLINDLY LIGHT (3).
So long Thy power hast blest me
Sure it still will lead me on.
O'er moor and fen, o'er crag and torrent
Till the night is gone.
And with the morn those angel faces smile,
Which I have loved long since and lost awhile.
_____
PAGE133: Chapter 18 PICTURE PART


UPSTAIRS BEDROOM WHERE I WAS BORN,
MAY 8, 1902, EDGEHILL, ENGLAND.
I LIVED HERE UNTIL I WAS FOURTEEN.
_____
PAGE134: Chapter 18 PICTURE PART

CHURCH I ATTENDED WHEN I WAS A BOY
RADWAY, ENGLAND.
_____
PAGE135: Chapter 18 PICTURE PART

GRANDFATHER AND GRANDMOTHER COLLETT
IN FRONT OF THEIR HOME IN ODDINGTON
ENGLAND.
MY GRANDFATHER WAS CUSTODIAN OF
PROPERTY IN THE COLLEGE AT OXFORD
FOR MANY YEARS .
_____
PAGE136: Chapter 18 PICTURE PART


MY FATHER PRAYING FOR RAIN
FOR HIS CROPS.
_____
PAGE137: Chapter 18 PICTURE PART


GRANDFATHER COLLETT
WE LOVED ONE ANOTHER VERY MUCH; HE
GAVE ME ADVICE WHEN I CAME TO
AMERICA. HE TOLD ME TO READ MY
BIBLE EVERY DAY AND I WOULD NEVER
GO WRONG.
_____
PAGE138: Chapter 18 PICTURE PART


MY GRANDPARENTS GRAVE; MY
GRANDFATHER COX PASTORED THE SAME
CHURCH FOR SIXTY THREE YEARS.
_____
PAGE139: Chapter 19 LANDING IN NEW YORK.
I was seventeen when the War ended. I then started preparing myself for the journey to the Mission Field. I left England in September, 1920 and landed in New York on October 23, 1920 on the beautiful passenger ship, The "AQUATANIA". The ship had been packed. I carried with me the necessary papers; My Mother's birth certificate, my own birth certificate and a letter of recommendation pertaining to Character and Background from the American Consul.
Many had to go to Ellis Island at that time. The Immigration Officer called me out from the crowd and said to me: "Young Man, We Want To Talk To You."
I had changed my passage on the ship from Third Class to First Class. I threw all my old, baggy suits overboard; bought new ones from the ship's tailor and had dressed up myself like a Gentleman. My Grandfather had told me: "The First Outward
_____
PAGE140: Chapter 19 I WALKED IN HEAVEN WITH JESUS
Appearance Of Any Man And How He Is Dressed Makes A Big Difference." And He was right, It really did. I was through Immigration in less than Fifteen Minutes, then made arrangements to go to the United States Court the next day. I kept my appointment.
The Judge I faced was from Alabama and He was a Christian. He was really nice to me. I held up my right hand and Swore Allegiance to the United States of America. The Laws were different then; This was before anyone had to have First and Second Papers.
I remember the trip afterwards across the United States by Train. I spent a short time in Hollywood; then went to Las Vegas, Nevada working every day for the Los Angeles and Salt Lake Railroad and going to night school to further my education. After the Great Lay-off by the Railroads during the Administration of Harding, I went on the Dodge Brother's Yacht, going around the world, studying and learning all the way. And truly,
_____
PAGE141: Chapter 19 LANDING IN NEW YORK.
that was a real schooling for me, learning and preparing myself to become the Man GOD wanted me to be.
"Go Ye Therefore, And Teach All Nations, Baptising Them In The Name Of The Father, And Of The Son, And Of The Holy Ghost; Teaching Them To Observe all Things What So Ever I Have Commanded You: And, Lo, I Am With You Always, Even Unto The End Of The World. Amen." Mathew 28:19 and 20. "And They Were All Filled With The Holy Ghost, And Began To Speak With Other Tongues, As The Spirit Gave Them Utterance." Acts 2:4.
The Missionary Field of the Great Amazon Basin is a vast Territory; Jungles, Villages and many Primitive Areas. I Walked these Jungle Trails of the Hinterland telling many souls about Jesus. Heaven was always on my mind.
"It Is Not Expedient For Me Doubtless To Glory. I Will Come To Visions And Revelations Of The Lord. I Knew A Man In Christ Above Fourteen Years Ago, (Whether
_____
PAGE142: Chapter 19 I WALKED IN HEAVEN WITH JESUS
In The Body, I Cannot Tell; Or Whether Out Of The Body, I Cannot Tell: GOD Knoweth;) Such An One Caught Up To The Third Heaven." 2 Corinthians 12:1 and 2.
I remember the Sunday I received The Baptism of the Holy Ghost, speaking in tongues as the Spirit gave me utterance. It was in a large tent meeting and Johnny McConnel was the Preacher; He was from Texas. I worked with Smith Wigglesworth while He was praying for the sick and I knew Aimee Semple McPherson very well. She was a precious soul; She won many souls into the Kingdom of GOD. Billy Black and many of the other Ministers and Evangelists were my friends. The Experience of the Baptism of the Holy Ghost that Sunday equipped me to work with some of these Women and Men of GOD.
"And The Things That Thou Hast Heard Of Me Among Many Witnesses, The Same Commit Thou To Faithful Men, Who Shall Be Able To Teach Others Also. Thou Therefore Endure Hardness, As A Good Soldier Of
_____
PAGE143: Chapter 19 LANDING IN NEW YORK.
Jesus Christ." 2 Timothy 2: 2 and 3.
It was my desire to prepare myself to be a good Servant of the Lord. I went through many hard times and I suffered many things. But, today I count it all joy; For I am now Living in the Day of Victory in my Life. Heaven is on my mind. I have been there.
If you can try to imagine in your mind the Distance between New York and Los Angeles, or let us say, the Distance between New York and Peking, China or maybe Bombay, India. The Lord may let you understand a little how vast Heaven is. The Gigantic size of Heaven, Eighty Times Bigger than the Whole Earth, with over Two Million Miles around it, creates a Gigantic
area on the inside through the Inner Gates and before the Throne of GOD. Can you imagine standing before The Throne of GOD and looking upon His Great Throne and then try to imagine yourself standing on the East Coast of the American shores and the Golden Altar farther away
_____
PAGE144: Chapter 19 I WALKED IN HEAVEN WITH JESUS
than Peking, China. Yet, you can see it in Heaven. Look to your right as you stand inside the Gate. There is the Great Temple holding Millions, The City Foursquare standing beside it. And then look to the left and there is the Banqueting House where Millions can eat at one time.
"He Brought Me To The Banqueting House, And His Banner Over Me Was Love." The Song of Solomon 2:4. "This Is My Commandment, That Ye Love One Another, As I Have Loved You." John 15:12.
Try and visualize in your Earthly Mind the River of Life and then the Mansions and the wonderful things that GOD has created in Heaven, where you and I will live forever. This is where a Bond of Peace and Love is established between Christian and Christian that will last all through Eternity where there is no end. This Earth is going to pass away and there will be a new Earth, a PERFECT PLACE, where no Adam will fall. After the Rapture, this Old Earth will be a bad
_____
PAGE145: Chapter 19 LANDING IN NEW YORK.
place to be, for in Thessalonians we read about the Dead in Christ Rising First, and we that remain will be caught up to meet the Lord in the Air.
Truly, Christian Friends, this will be a Terrible Place to be after that. For those who will not go up in the Rapture, will be crying for the Mountains and the Rocks to fall on them. There is going to be a Great Explosion. It will Rock and Shake; It will Shake the Dead right out of the Earth; For the ground will give up the Dead.
"And I Saw A New Heaven, And A New Earth: For The First Heaven And The First Earth Were Passed Away; And There Was No More Sea." Revelation 21:1.
The Heavenly Flood Gates will open and there will be a Great Rocking and Reeling of the Earth, Shaking and Moving by the Spirit of the Living GOD until It will almost rock out of its Axis. this is the time when every tongue shall confess
_____
PAGE146: Chapter 19 I WALKED IN HEAVEN WITH JESUS
and every knee shall bow and say that Jesus Christ is Lord, the Man of Galilee, the One Who gave His Life on Calvary and Shed His Blood that we might have Life in Heaven and Have it more Abundantly.
"I Have Sworn By Myself, The Word Is Gone Out Of My Mouth In Righteousness, And Shall Not Return, That Unto Me Every Knee Shall Bow, Every Tongue Shall Swear." Book of Isaiah 45:23.
This message must be carried to all corners of the Earth. We are expecting, and it is my desire, to translate this message of Heaven into every language. Put it on tapes and ship these tapes to every Nation under Heaven. Many People of different Nationalities are crying to know about Heaven. These tapes will carry the Message of Jesus; They will tell about Heaven. Pray, Pray and Pray! And this will come to pass.
"But In Every Nation He That Feareth Him, And Worketh Righteousness, Is Accepted
_____
PAGE147: Chapter 19 LANDING IN NEW YORK.
With Him. The Word Which GOD Sent Unto The Children Of Israel, Preaching Peace By Jesus Christ: (He Is Lord Of All:) That Word, I Say, Ye Know, Which Was Published Throughout All Judaea, And Began From Galilee, After The Baptism Which John Preached."
Acts 10:35, 36 and 37.
_____
PAGE148: Chapter 20 MY FIRST PASTOR.
I was discharged out of the American Service in the early part of 1923 and I decided that I would go to Alaska. I got a job with an American Logging Company, the name of the Logging Master was Bergman Eng. He was born of Norwegian parents in Minnesota. I took the job because it paid well and I wanted to get my body healthy and strong by working in the woods.
I was, also, studying at the time: Medical Books, Mechanical Books and several books of Geography or various countries. Being a lover of History, I had many History Books, too.
The books that I took to the logging camp weighed over one hundred fifty pounds along with Bibles. I sailed from Seattle, Washington, stopped in Vancouver, British Columbia, Canada for a few days while boat was being reloaded with supplies
_____
PAGE149: Chapter 20 I WALKED IN HEAVEN WITH JESUS
for logging camps.
After leaving Vancouver for the logging camp area, we stopped three or four days at a place called Ocean Falls in Prince Rupert. We sailed on up to an Inlet that divided Canada and Alaska. The logging operation was on the Alaskan side.
It was a big operation; Steam Donkey Engines, High Climbers and Men called Hook Tenders who were in charge of each crew. I equipped myself with Cork Boots, Tin Pants and Coat. The underwear I wore was made of so called Sixteen Ounce French Wool because the weather was so cold. This was the only way that you could keep warm. I enjoyed the outdoor life, went hunting and fishing a lot.
We were a lot of hungry workers, many times eating a second big steak in the place of Dessert. The chief cook was a German woman who really knew how to put on a big feed three times a day. I worked long enough to get what you called
_____
PAGE150: Chapter 20 MY FIRST PASTOR.
a money stake in order to use it to go back to school.
After my contract was up, I decided to stay in Vancouver because I had an uncle living there. I thought that it would be nice to visit him for awhile. During this stay in Vancouver I met a Gentleman, Charles O. Benham, who was a teacher of the Word of GOD. I attended the Bible School and sat under Brother Benham's teaching. I learned a lot about the Word of GOD.
I was A Christian previous to this visit to Vancouver, what you might call a Nominal Christian, believing every Word of the Lord in the Bible, but not practicing it fully. I attended
Services regularly, Sunday morning and Sunday night, Tuesday night and Saturday night.
There was a sign on the platform in the Church where Brother Benham was the Pastor; It said in bold letters: JESUS IS COMING SOON. Another Scripture
_____
PAGE151: Chapter 20 I WALKED IN HEAVEN WITH JESUS
I remembered was: A DAY IS AS A THOUSAND YEARS WITH THE LORD. Another Scripture in my mind was: WITHOUT HOLINESS NO MAN SHALL SEE THE LORD.
The prayer meetings were wonderful; The travail before the Altar for souls was very spiritual. Many of the young people around me would Speak in Tongues, something that I knew nothing about. I was told by the Pastor that I needed the Baptism of the Holy Ghost and the Baptism of Fire. I remembered how my Grandfather, when I was a little boy, would speak out in a voice that sounded like French to me. So, I asked Pastor Benham if that was the same Bible experience that I thought to be French when I heard my Grandfather speak it. Brother Benham told me that my Grandfather must have had the Baptism of the Holy Ghost.
Brother Benham and I became very close friends; we would go out to eat together, pray together and talk a lot about the Lord Jesus. Brother Benham
_____
PAGE152: Chapter 20 MY FIRST PASTOR.
announced from the Pulpit that an Evangelist was coming from Texas to preach in a tent in the city. A very large tent was put up, Springtime had come.
The weather was just right for a tent meeting. Lots of sawdust was put on the floor; A large platform was built with a big prayer space behind the platform.
The First Sunday morning in the tent meeting I was told to go behind the platform and pray for the Baptism of the Holy Ghost. I was dressed up in a fine silk suit and and a fine silk shirt with a turn-down linen collar, a four-in-hand tie, Patent Leather Shoes with buttons on the side, including silk socks. All the girls were trying to make dates with me. However, my Pastor would not allow such a thing; Instead, He said to spend time seeking the Lord.
He said, "When You Get The Baptism Of The Holy Ghost, You Be Sure And Get A Girl Baptized With The Holy Ghost And Then You Will Have No Problem." How well
_____
PAGE153: Chapter 20 I WALKED IN HEAVEN WITH JESUS
I remember the Infilling with the Baptism of the Holy Ghost. There was a Lummi Tribe Indian Woman praying on one side of me and a Missionary from the Belgium Congo named Sullivan on the other side. I know that I received the Baptism according to Acts 2:4 because I could not speak in English for several days.
After several months Pastor Benham decided to return to the United States, And I decided at this time to move back to the United States, also. I had all my Documents, Papers, Birth Certificate, and et cetera with me and anyway in those days there was no problem.
Brother Benham at thirty three married a girl eighteen in Eugene, Oregon. One of the other girls in the Church wanted me to take her on a date to eat ice cream, a malted milk, or such. Things were different in those days; I said that it wasn't proper for a girl to ask a young man for a date. And she replied, "OH, It Is Leap Year And So It Is Proper."
_____
PAGE154: Chapter 20 MY FIRST PASTOR.
So, several of us went down to the ice cream parlor on the corner.
In 1925 I went up the Amazon River on a Missionary Journey at the Age of Twenty Three. For many years I have been preaching, doing Missionary Work and have been busy in activities for the Lord; Preaching in Tent meetings, in Auditoriums, both here in the Homeland and in Foreign Countries.
While in a meeting in Gatlinburg, Tennessee in November 1984 with Norvel Hayes, Kenneth Copeland and other wonderful and outstanding Ministers, I met a Lady there whose name was Mrs. Benham and she was my First Pastor's Widow.
Sister Helen Benham was attending that same meeting, a seventy eight year old Lady; She was so happy and pleased to see me. I told Sister Benham that I had seen my First Pastor, Brother Benham, in Heaven. And what a happy person She was to hear that wonderful news that
_____
PAGE155: Chapter 20 I WALKED IN HEAVEN WITH JESUS
I had seen her beloved husband in Heaven. My Pastor, Brother Charles O. Benham from whom I learned so much over sixty years ago.
_____
PAGE156 Chapter 20 PICTURE PART


MY FIRST PASTOR,
DR. AND MRS. CHARLES O. BENHAM
MY FIRST PASTOR 1921; IN LATER
YEARS 1984, I HAD FELLOWSHIP WITH
SISTER BENHAM IN A MEETING IN
GATLINBURG, TENNESSEE DURING A
CONVENTION.
_____
PAGE157: Chapter 21 BELLINGHAM MEETING
The Communists attacked me at the End of World War Two.
GOD led me to Bellingham, Washington to have a Missionary Soul Saving Campaign. We began to have prayer meetings and we prayed for the sick in a small Upper Room over an old wooden building. The room packed out; It held about one hundred fifty people. Missionaries came to attend the meeting, some from China, some from South America and other parts of the World.
The Power of GOD was present in the meetings and GOD really blessed. GOD Spoke to me to put up a Gigantic Tent. The area around Bellingham was wooded. We hired a company to clean the land with bulldozers which was very expensive.
We built a kitchen with walk-in ice
_____
PAGE158: Chapter 21 I WALKED IN HEAVEN WITH JESUS
box, big stoves and dish washing facilities. Right next to the kitchen we put up a tent with tables and chairs to feed the people because that is what the Lord told us to do.
After six weeks of working and preparing for a crowd which the Lord had told us would come, we were ready to start. The Lord had me Preach under the Anointing of the Holy Ghost and souls were being saved. I Preached several messages about about the Demons of Communism.
Little did I know that this camp ground was right next to the Secretary of the Communist Party of the Northwest Territory. I was challenged by this man to take the tent down and leave the country or He would blow our entire camp ground and tent down with Dynamite.
After about one week of Services, The First Dynamite Blast went off. My Daughters, Ruthie and Margie, were small children, five and seven years old. Our
_____
PAGE159: Chapter 21 BELLINGHAM MEETING
oldest son was in the Service; Our two other sons were still at home, Teenagers.
Associated Press and the United Press came to see us and asked what this was all about. It did not take them long to find out that It was a Direct Communist attack against GOD's work. It has always been my desire to stand fast in the Liberty wherewith GOD has made us free and not be Entangled with a Yoke of Bondage.
I was invited one time by a United States Chaplain, Lieutenant Colonel Horton, to Preach in a Chapel full of Servicemen; Officers and Enlisted Men. I chose the Scripture as my text: "Stand Fast Therefore In The Liberty Wherewith Christ Hath Made Us Free, And Be Not Entangled Again With The Yoke Of Bondage." Galatians 5:1. We really had a wonderful time of fellowship, all of us together.
When I was challenged by the Communists, I felt that I was denied the Liberty to which I was entitled, to Preach the Gospel
_____
PAGE160: Chapter 21 I WALKED IN HEAVEN WITH JESUS
in the Name of Jesus. So, I stood fast and so did my family as well as my workers. We knew that we were in a battle, a battle and a challenge by Communism and the Devil.
I know when one is challenged by the Devil and His Evil Forces and His Satanic Powers, GOD will always come on your side and be with you all the way in a situation such as we were experiencing. I learned that in the Deep Jungles of the Missionary Field among the Satanic Powers there. And GOD has never let me down, even among the Witch doctors and the Headhunters, where many Missionaries have been Martyred.
With this experience in mind I Preached more powerful Sermons. These Communists could not understand the Love of GOD; They were so full of Satanic Power, ready to kill, destroy and murder. Our platform was large; WE had singers on the platform, ministers, Lummi Tribe Indians and myself. One Sunday night the Communists sneaked up very close to the platform and placed
_____
PAGE161: Chapter 21 BELLINGHAM MEETING
several sticks of Dynamite and then the explosion took place right at the end of the platform, lifting the platform up several feet. My wife was playing the piano and that piano was lifted clear into the Air. When the piano set down level again, my wife kept on playing under the Power of the Holy Ghost. And over the loud speakers, I announced: "When You Communists Run Out Of Dynamite, We Still Will Be Here And Have Our GOD."
On the Monday morning the reporters came; One from the local Bellingham Paper, One from the Associated Press and from Pathe News. The Chief Reporter of the local paper said: "This Has Gone Far Enough, If They Can Do This To Your Group And Get By With It, Next Time They Will Attack Any Of Us Including My Church, I Am A Catholic." The Military Paper, The Stars and Stripes, had a reporter there, also.
On Tuesday, the Highways were choked with Automobiles from twenty miles all
_____
PAGE162: Chapter 21 I WALKED IN HEAVEN WITH JESUS
around Bellingham to come to the meeting. And yet, the Communists were still blasting away with their Dynamite. And Not One Christian ran. In less than a month, the Communist leader fell dead with a heart attack. And that was the end of the Communist challenge.
Many miracles took place, many souls were saved and GOD kept on blessing in a miraculous way even if they did call me, "THE WHITE SHOES PREACHER".
Aeroplanes flew overhead to take pictures of the whole Godly operation of the meeting.

LET'S STAND FAST IN OUR LIBERTY WHERE
WITH CHRIST HAS MADE US FREE!
_____
PAGE163: Chapter 21 PICTURE PART

DR. COLLETT 1945.
_____
PAGE164: Chapter 21 PICTURE PART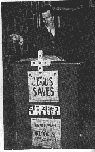 DR. COLLETT PREACHING THE GOSPEL
FIFTY FIVE YEARS AGO.
_____
PAGE165: Chapter 21 PICTURE PART


DR AND MRS COLLETT, BABY MARGARET,
1936
LITTLE MARGIE SAT ON THE
PIANO BENCH WITH HER MOTHER;
SHE NOW PASTORS A GOSPELL CHURCH
IN COLUMBUS, OHIO.
_____
PAGE166: Chapter 21 PICTURE PART


DR. COLLETT AND FAMILY IN HIS
EARLY PREACHING DAYS PREPARING TO
GO TO THE MISSION FIELD.
_____
PAGE167: Chapter 21 PICTURE PART

DR COLLETT BAPTISING IN THIS
RIVER NEW CONVERTS WHO HAD JUST
ACCEPTED THE LORD JESUS CHRIST
AS THEIR SAVIOUR
_____
PAGE168: Chapter 21 PICTURE PART

MRS. COLLETT 1925.
_____
PAGE169: Chapter 21 PICTURE PART

"MRS. COLLETT AT THE ORGAN.
"OAKHILL TELEVISON STATION, OAKHILL,
WEST VIRGINIA, DR. COLLETT WAS ONE
OF THE FIRST TO USE TELEVISON
TO PREACH THE GOSPEL.
_____
PAGE170: Chapter 22 THE BIG TOP.
We put the tent up in two places in Ohio, Portsmouth and Columbus and several places in West Virginia.
The Kenova, West Virginia Meeting was Gigantic; Thousands of people came from the time the meeting started until the finish. We must have spoken to at least three hundred thousand people during that meeting. Each night, droves would come from the mountains and the cities around that area.
One ambulance brought a lady all the way from Delaware. Ambulances came from all directions bringing the sick and the afflicted and even the Dead. Thousands accepted the Lord Jesus Christ as their Saviour.
The Highway was jammed and a West
_____
PAGE171: Chapter 22 I WALKED IN HEAVEN WITH JESUS
Virginia State Patrolman left his Patrol car in the middle of the highway with his radio going, running down to the tent, thinking something special had happened or perhaps as accident had taken place. It was the Dead Woman coming back to life.
The local Assembly of God Pastor came early one night and asked to see me, I only talked to him about a half of a minute and he said, "Look At Them Coming. They Are Coming In By Droves." Hundreds of cars surrounded his car and he could not drive out until the meeting was over because he had parked his car close to the tent ropes. He had intended to stay only a few minutes, but then he had to stay during the whole service.
When he did not show up for his own Church Service at his regular seven o'clock appearance time, his congregation began to wonder where their Minister was. One of the congregation announced in the Church that he had seen his car at the tent meeting. That was all it took. The whole congregation
_____
PAGE172: Chapter 22 THE BIG TOP.
came swarming into the meeting; The place was packed with no seats left and his congregation stood up outside the tent with the rest of the spectators peeking over heads.
It was quite common for Church buses to go back and get two or three loads; Baptists, Methodists, Lutherans and Pentecostals, all coming together to see the Power of GOD in Action.
It was quite a sight to see rows of deaf people one after the other receiving their hearing. The blind receiving their sight, the lame made to walk, just exactly as Jesus had told the Disciples of John The Baptist to watch and see.
One woman was so excited in the Prayer Room leading a soul to Jesus that when so much of the Power came upon him and his voice began to flow out in other tongues as the Spirit gave him utterance, she said: "Stop It, Stop It, Our Church Does Not Believe In That." But, that new convert
_____
PAGE173: Chapter 22 I WALKED IN HEAVEN WITH JESUS
could not stop even though he was a close relative of the lady and had attended her Church regularly sitting in the Amen Corner for years.
When the Power of GOD really comes into the Midst of a Group, no man can stop it. When the River of Life will burst its banks coming out of Heaven and will saturate the Earth with the Power of GOD and the Great Spiritual Explosion takes place all around the world, no man-made orgaization, whether Godly or Worldly, will have any power to stop the Glory of GOD.
When the Spirit of GOD circles the Earth, there will be just so long a time to get ready to repent, be filled with the Spirit of GOD and learn to speak GOD's language in Heaven down here on this Earth.
If you are saved and washed in His Blood, you will have to go into the Outer Perimeter of Heaven a Thousand Years in order to be able to speak to GOD The Father
_____
PAGE174: Chapter 22 THE BIG TOP.
because inside of Heaven only GOD's Language is spoken. Now, GOD speaks to anyone in their own language and He answers the prayer uttered in any language or Dialect, or any tongue spoken. Jesus spoke out of Heaven to Paul in the Hebrew Tongue.
In Heaven Jesus and His Father spoke together in the Heavenly Language. You can learn it here on this Earth if you want to do so. It would be a whole lot easier than staying in Paradise a Thousand Years; For a day is as a Thousand Years with the Lord.
Down by the River Bottom where it was cool in the hot summer time, where copper heads crawled and people fished. We put up the Big Top again in Portsmouth, Ohio. The night of the opening of the meeting big crowds came again, Healings were happening all over the place, Souls were getting saved by the Hundreds, Blind Eyes were opened up, Deaf Ears were opening, the Lame was walking and the Poor was having the Gospel preached to them and
_____
PAGE175: Chapter 22 I WALKED IN HEAVEN WITH JESUS
the Drunkards were getting delivered.
Little did we know that we had placed the tent right square on the top of the Drunkards' Retreat of that town. One night a man threw a wine bottle at me. I caught it in my hand; He threw another bottle and I caught that one, too. Three days afterwards he gave his heart to the Lord and was delivered of his drinking. He got a job which made his wife and children happy and two weeks after that, He received the Baptism of the Holy Ghost and spoke in tongues as the Spirit gave utterance.
Many Whiskey Drinkers and Beer Guzzlers got saved, even those who had been drinking Denatured Alcohol.
A Copperhead raised its ugly head like the Devil Himself and an old Gentleman, Reverend Coddel, picked up that Copperhead by the tail and threw him out amongst a bunch of sinners and scoffers; They really scattered then and more than half of them came running into the tent for
_____
PAGE176: Chapter 22 THE BIG TOP.
protection. It was wonderful to see the Miracles take place. I believe the way GOD works in the Spectacular Best is the time when the Devil puts up a real challenge opposing the work of GOD; That is the time when GOD comes on the scene to work with you and to bless His Own.
A Church of Christ preacher brought in a cripple. With a sarcastic voice, he said: "Now, If Miracles Are For Today, Heal That Man In The Wheel Chair." I just said: "Jesus." I touched him with my finger. That man then went running around the tent three or four times shouting, "Jesus has healed me." And this closed the preacher's mouth, no other words were needed. This was much better than a debate. That is what he had come for, challenge me to a debate. But, I never heard his voice, nor did I see him again.
T. L. Osborne and Daisy had just returned from overseas somewhere and He announced that GOD was going to give Him this type of Ministry. Brother and Sister
_____
PAGE177: Chapter 22 I WALKED IN HEAVEN WITH JESUS
Osborne went to Tulsa, Oklahoma and started a work in Brother Warren Shibley's home. A precious Brother in the Lord. Their Ministry grew so big that he went back to the Mission Field drawing in Thousands and Thousands of people, feeding the poor, preaching to many Nationalities. With the Power of GOD on your side, you can do anything. There is no failure with GOD!
We moved from Portsmouth, Ohio to Columbus, Ohio. It was the same again. The Power of GOD moved, souls were saved and many Miracles took place. We put the Big Top up in Charleston, West Virginia, Oak Hill, West Virginia and Beckley, West Virginia.
It was North, South, East and West from the Borders of Canada to the Borders of Mexico; From the Pacific Ocean to the Atlantic Ocean, Overseas to the Jungles and to the Mountains, and to the Islands of the Sea, from Cairo, Egypt across the Red Sea among the Arabs and the Blacks
_____
PAGE178: Chapter 22 THE BIG TOP.
of Africa; GOD has moved in every meeting.
Now, after spending Five and One Half Days in Heaven, GOD is rewarding me for Faithfulness. Heaven is indeed a beautiful place. Thousands of souls that have been won to Jesus have gone into Heaven to enjoy the Glories there and waiting for their Bodies to come out of their Graves.
_____
PAGE179: Chapter 22 PICTURE PART

"THE OLD DAYS OF RADIO.
DR. COLLETT PREACHING THE WORD ON
RADIO, 1950.
_____
PAGE180: Chapter 22 PICTURE PART


DR. COLLETT AND DAUGHTERS,
MARGIE AND RUTHIE.
_____
PAGE181: Chapter 22 PICTURE PART


AT THE OAKHILL, WEST VIRGINIA
TELEVISON STATION IN THE EARLY
DAYS OF TELEVISON.
_____
PAGE182: Chapter 22 PICTURE PART

THE COLLETT FAMILY.
_____
PAGE183: hapter 22 PICTURE PART

MARGIE, TOM, MRS. COLLETT AND
RUTHIE.
_____
PAGE184: Chapter 22 PICTURE PART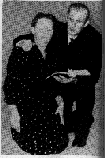 DR. AND MRS. COLLETT 1960.
_____
PAGE185: Chapter 22 PICTURE PART
SON, FRED, CONTRACTOR AND BUILDER,
LIVES IN XENIA, OHIO.
_____
PAGE186: Chapter 22 PICTURE PART


FRED DURING HIS MISSIONARY DAYS
IN WEST AFRICA; HIS TRUCK GOT STUCK
IN THE MUD.
_____
PAGE187: Chapter 22 PICTURE PART


BOB COLLETT IN KOREA.
_____
PAGE188: Chapter 22 PICTURE PART

SOME OF THE COLLETT GRANDCHILDREN.
_____
PAGE189: Chapter 22 PICTURE PART


DR. COLLETT, KEY WEST, FLORIDA 1961.
_____
PAGE190: Chapter 22 PICTURE PART

DR. COLLETT, 1960.
_____
PAGE191: Chapter 22 PICTURE PART

MY FATHER, BROTHERS, SISTERS,
MRS. COLLETT AND FAMILY FRIENDS
IN 1960.
_____
PAGE192: Chapter 22 PICTURE PART


MY FATHER, MY BROTHER ON RIGHT,
NEPHEW LEFT AND
GREAT-GRAND-NIECE, SUSAN.
_____
PAGE193: Chapter 22 PICTURE PART


MY FATHER, ALBERT JOHN COLLETT,
AND MRS. COLLETT.
_____
PAGE194: Chapter 22 PICTURE PART


FAMOUS ROUNDHOUSE FORTRESS
USED IN BATTLE OF
EDGEHILL, ENGLAND, 1642.
_____
Next Chapter
Part III: My Journeys Among The Indians In South America.
_____